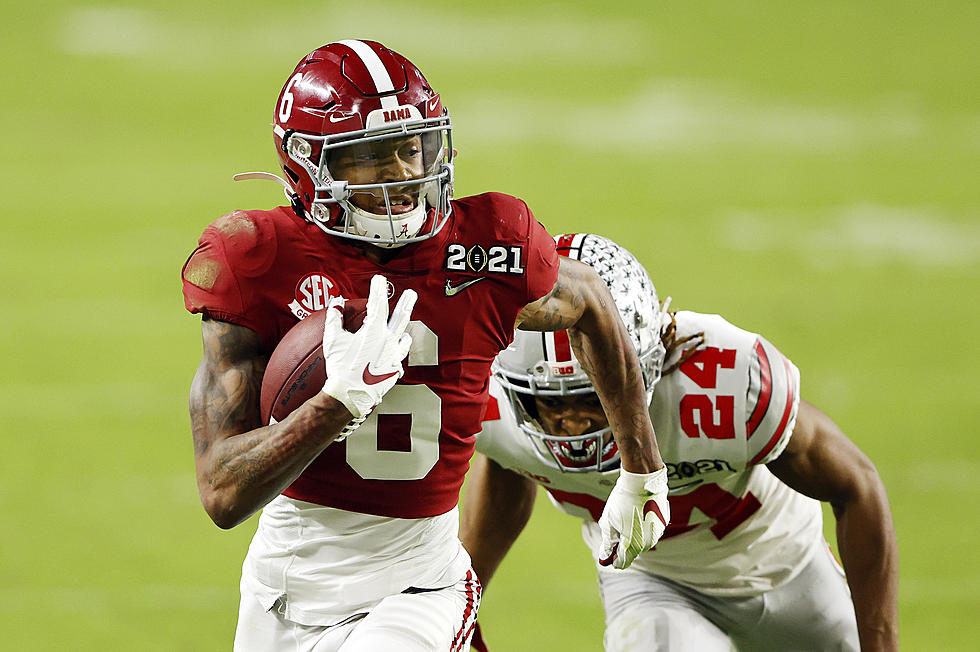 Heisman Winner DeVonta Smith Works Out With Bama WR Commit
Getty Images
Alabama's 2022 four-star wide receiver commit Shazz Preston was seen working out with Heisman-winner and current Eagles receiver DeVonta Smith ('21) in a video on social media this week.
Preston is out of St. James High School in St. James, Louisiana, a small town around 80 miles south of where Bama alum DeVonta Smith played high school football in Amite City.
The 6-foot 190-pound receiver is ranked as the eighth-best player in the country at the position and the fifth-best recruit coming out of Louisiana in 2022, according to 247Sports Composite.
In 2017, DeVonta Smith was also a four-star prospect but ranked as the second-best recruit coming out of Louisiana and the ninth-best receiver in the country.
Smith went on to set multiple records playing four seasons in Tuscaloosa as well as bringing Alabama its program's third Heisman Trophy winner. He holds program records for career, season and game-highs in both touchdowns and receiving yardage from his time in Tuscaloosa and was a first-rounder in the 2021 NFL Draft to the Philadelphia Eagles.
Before committing and signing to Alabama in December of 2021, Preston held offers from Arkansas, Auburn, Georgia, LSU, Texas and USC.
For more from J.R. and all of the talented staff at Tide 100.9, make sure to check out our content at tide1009.com and on the Tide 100.9 app.
Alabama Crimson Tide All-Time Receiving Leaderboard
Crimson Tide's NFL Draft First-Rounders During Saban's Tenure
Take a look back on the Crimson Tide's first round selections under head coach Nick Saban.
Highest Rated Recruits of the Saban Era By Year
Check out Alabama's highest-rated recruit from each Crimson Tide recruiting class during the Nick Saban era.