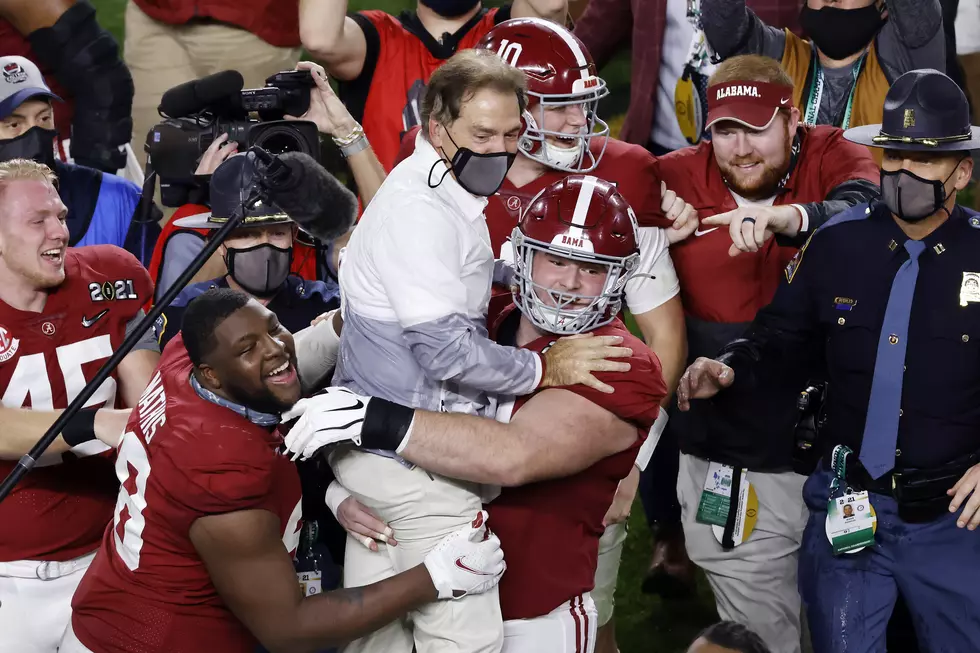 Nick Saban Tells Alabama to "Get Vaccinated" in New PSA
Getty Images
In a new public service announcement by the Alabama Department of Public Health, seven-time national championship-winning Alabama head coach Nick Saban asks Alabamians to go get their COVID-19 vaccine. While the country as a whole has recorded at around 47% of American adults getting at least one dose of the vaccine, the state of Alabama has seen only around 34% of adults get at least one dose.
Nick Saban's message is as follows:
"College football fans and players both want full stadiums this fall," Saban said. "Let's make sure we can safely make this happen by getting vaccinated. Please get your COVID-19 vaccine. We want Bryant-Denny Stadium loud again this season. Roll Tide."
Almost immediately after the PSA was released, Alabama fans and college football fans, in general, criticized the coach for not "sticking to sports."
This is just the second time during the pandemic that coach Nick Saban has made a public statement regarding COVID-19. In March of 2020, Saban made a statement on Alabama football's social media accounts stressing the importance of social distancing and mask-wearing.
Currently, the University of Alabama is planning on hosting "100% capacity" in Bryant-Denny Stadium for the upcoming football season, according to Alabama Athletic Director Greg Byrne.
With Alabama being one of the lowest vaccinated states in the country, efforts have ramped up to encourage getting a vaccine. On the eastern side of the state, Talladega Superspeedway has given racing fans the opportunity to drive on the world-famous race track if they get a vaccine or get tested.
With more and more Americans getting vaccinated every day, America is slowly starting to return to normalcy. Recently the Center for Disease Control (CDC) made a statement that clarified that fully vaccinated Americans can take off their masks in almost every location - excluding areas such as buses, planes, and homeless shelters. The CDC also stated that Americans who haven't been fully vaccinated should remove their masks just yet.
For more information on how to schedule your vaccine appointment, visit the ADPH's website.