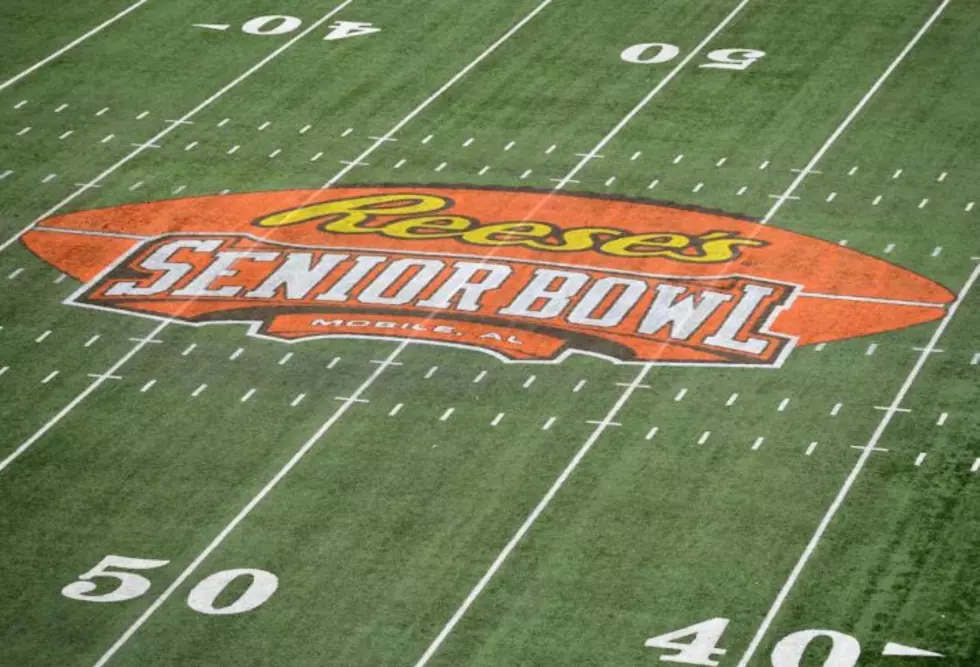 The Senior Bowl Rosters Are Set
John David Mercer-USA TODAY Sports
This week kicks off the Senior Bowl festivities and with it the NFL Draft process. The Alabama Crimson Tide, fresh off an 18th National Championship victory, is sending seven prospects to Mobile, Alabama: QB Mac Jones, RB Najee Harris, WR DeVonta Smith, LT Alex Leatherwood, G Deonte Brown, C Landon Dickerson and LS Thomas Fletcher.
With a final set of tweets from Senior Bowl executive director Jim Nagy Monday morning, the rosters for the contest have been set. With the North vs. South style approach being left behind in favor of an American vs. National game. The American team will be coached by Matt Rhule and the Carolina Panthers coaching staff, meanwhile the National team will be headed up by Brian Flores and the Miami Dolphins.
For brevity's sake we'll look at which squad the Crimson Tide prospects will suit up for an what it means for those players either on the field, or for the few not playing what it means in the locker room.
We'll start with Landon Dickerson, who accepted his invite back in November. Unfortunately, Dickerson tore his ACL in the SEC Championship game against Florida. Although he famously snapped the final two kneel downs to Bryce Young in the National Championship game, Dickerson will not participate athletically in the Senior Bowl. Reportedly, he will be in Mobile, meeting with coaches and scouts. Interestingly, Dickerson has not been named to a roster by the Senior Bowl.
Still, the opportunity is there for Dickerson to update teams on his rehab process and show that his intelligence is just as valuable as his tenacity. If his rehab is progressing well and he performs on the whiteboard adequately, Dickerson could save his draft stock and remain a day two pick.
The National Team
Coach Flores and the Dolphins will feature fewer Crimson Tide stars, but the two on the roster are quite prominent in the Alabama record books. Najee Harris and DeVonta Smith will both join the National team this week.
Like Dickerson, Smith won't practice or play in the game this week. However, he was placed on a roster and intriguingly enough it's the roster of a coaching staff that could very well select him in the NFL Draft. Miami holds the 3rd overall pick thanks to a trade with the Houston Texans. With Jacksonville likely taking Trevor Lawrence and the Jets taking either a quarterback or offensive tackle, the Dolphins appear to be in the best position to take the 2020 Heisman Trophy winner.
Flores and staff will get a chance to know Smith well and see about the idea of reuniting him with Tua Tagovailoa.
Read More: Five Crimson Tide Players Invited to Senior Bowl
As for Harris, the all-time leader in yards and touchdowns at Alabama will be the lone participating player for the National team. Naturally, with the Dolphins also holding the 18th overall pick, fans of the franchise wonder if Najee fits the team with that selection as well.
While that remains to be seen, Harris will take reps along side North Carolina back Michael Carter, who many consider a top-5 running back in the class alongside Harris. Without a doubt the top offensive lineman in front of Harris will be Oklahoma's Creed Humphrey who was discussed as a late-first, early-second round pick last year before returning for the Sooners. The rest of the line is very much a group of "prove it" guys. Spencer Brown of Northern Illinois and Brenden Jaimes of Nebraska are two guys to see if they can open holes for Harris.
Read More: Najee Harris makes Seven Tide Alumni in Senior Bowl
Still, scouts openly want to see Harris create more on his own, break early tackle attempts and squeeze through tighter holes than he was given at Alabama. He'll have a handful of opportunities to prove he can do all of those things well and solidify himself as a first-round caliber back.
Enter your number to get our free mobile app
The American Team
The Carolina Panthers coaching staff will enjoy more Crimson Tide talent on the field this week. Mac Jones, Alex Leatherwood, Deonte Brown and Thomas Fletcher will all be under the direction of Matt Rhule.
Quickly starting with the long snapper, Fletcher drew the shortest straw as he'll have to share snaps with Ryan Langan of Georgia Southern, while the National Team has just one long snapper. Fletcher could take advantage of close comparisons between he and Langan.
On the offensive side, Mac Jones will be a pampered man this week. Not only will he be coached by Joe Brady and his exciting offense, but Leatherwood and Brown will protect him once more alongside SEC greats Trey Smith of Tennessee and Ben Cleveland of Georgia. His weapons include Missouri's Larry Rountree, Mississippi State's Kylin Hill, Florida's Kadarius Toney, Clemson's Amari Rodgers and South Carolina's Shi Smith.
Read More: Mac Jones Confirmed for Senior Bowl
The knock on Jones has been the talent around him has been to great. The hope now for those rooting for number ten is that argument being muddied by new uniforms and a new setting, because truth be told his roster is pretty stacked.
As for Leatherwood and Brown, Shaka Toney of Penn State and Patrick Jones are the top Edge rushers for the National team, while Levi Onwuzurike of Washington and Jonathon Cooper of Ohio State are the top interior defensive linemen.
Both Tide players appear to be second round picks, with Leatherwood having the best chance of sneaking into the first. Keeping that grade is the goal with the Senior Bowl and with the talent around them and against them, both players have a solid opportunity to do just that.
---
The 2021 Senior Bowl can be seen on NFL Network Saturday, January 30 at 1:30 p.m. CST. The event is sold out due to COVID-19 protocols and restrictions. Tide 100.9 will be on location throughout the week, providing practice, game and press conference coverage.
PHOTOS: Alabama Celebrates #18