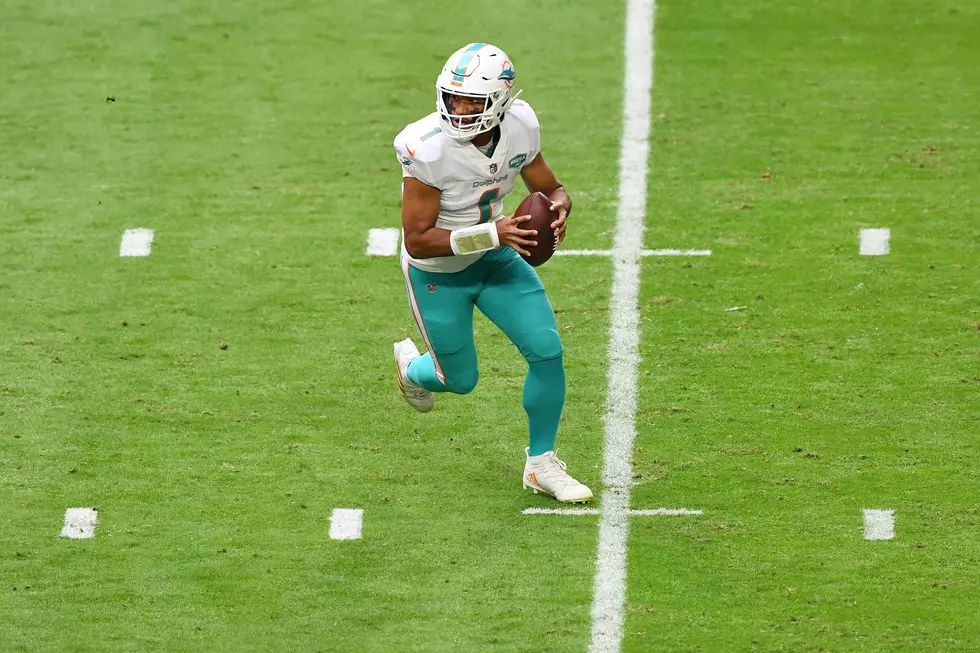 Week 9 Bama Pro of the Week: Tua Tagovailoa
Getty Images
Just two starts into his NFL career and Tua Tagovailoa has already begun to make his mark, winning his second straight game, this time in a desert shootout against the Arizona Cardinals.
Tagovailoa finished the day 20-28 passing for 248 yards and two touchdowns, adding 35 yards on the ground. Count in the hard-fought win and a plethora of highlights to build on, and the former Alabama star is this week's Bama Pro of the Week.
This time, however, the roles were reversed and it was Tagovailoa who would have to keep pace with Murray. As has become expected of the Samoan Southpaw, Tagovailoa delivered, matching the high-flying Cardinals offense score for score.
Just over a year ago, Tagovailoa's entire career was put under the microscope, both figuratively and literally, as to how it would continue into the future. In what seemed as an act of defiance to his nay-sayers, Tagovailoa took pride in his scrappy ground game, picking up three crucial first-downs on the ground.
If he can continue to throw in clutch situations such as he faced Sunday, the unnecessary doubt thrown his way in recent weeks will have no choice but to disappear.
Now for our honorable mentions:
Minkah Fitzpatrick, Steelers: Six tackles, a pass deflection, fumble recovery, and an interception.
Cam Sims, Washington: three receptions for 110 yards
Jerry Jeudy, Broncos: seven receptions for 125 yards and a touchdown
Jarran Reed, Seahawks: four tackles, including 2.5 sacks
Irv Smith, Jr., Vikings: two catches for 10 yards and two touchdowns
Enter your number to get our free mobile app
Be sure to tune back into tide1009.com each Tuesday to see the Bama Pro of the Week throughout the NFL season.
Alabama Career Passing Yards